Email Invites
If your friends are not a member of Weedclique, Invite them!  Here is the quick and simple way to do just that.
Find Profile Screen
Click the plus (+) to expand or minus (-) to collapse topics.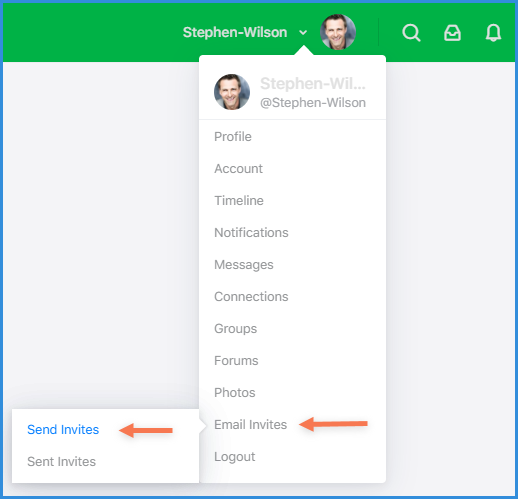 Select EMAIL INVITES from Profile menu (top right)
Click on the menu on the left Email Invites.
Select EMAIL INVITES tab from your profile page
Select SEND INVITES tab
Make sure the tab SEND INVITES is selected
Email Invite

Send Email Invites
Make sure the EMAIL INVITES (1) tab is selected.
Select the table SEND INVITES (2). (The Sent Invites are what we previously sent and covered below)
Enter the Persons name in the RECIPIENT NAME (3) field
Enter the RECIPIENT EMAIL (4) of where you to sent the invite. Make sure to spell email correctly.
You can add additional friends (5) by clicking on the (+)
Customize email message text and check your name (6) in the invitation. (You user name is inserted by default).
Click the SEND INVITES (7) button to send all emails
Your Email Invite to join Weedclique has been to your friends.
Note: Have your friend check the JUNK/SPAM folder if they haven't received the email invite.
Review Sent Invites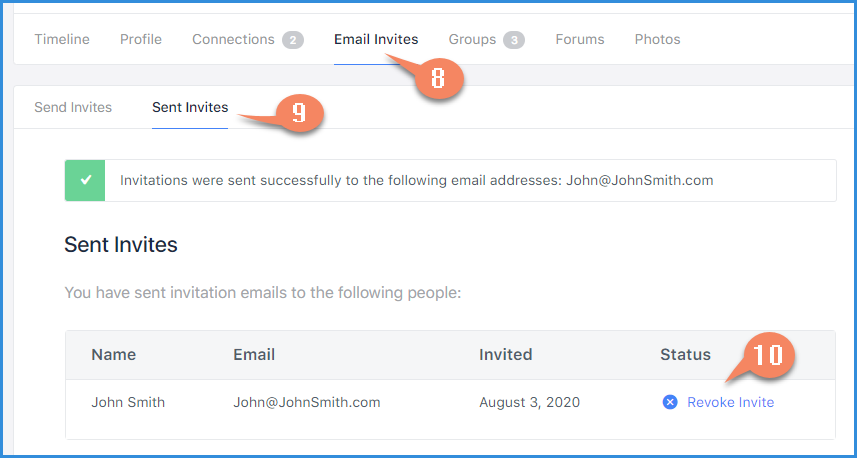 To view a list of email invites that have been sent and the status
Make sure the EMAIL INVITES (8) tab is selected.
Select the SENT INVITES (9) tab.
The status can be REVOKE INVITE (10), where you un-invite your friend by clicking on the (X) next to the invite.
The status can also be REGISTERED, which means that your friend has registered and account on Weedclique.

This is how to check who has accepted the invitation or still outstanding. Thanks for helping growing your Clique!
Date of Last Revision August 2, 2020