Another Monday, another day of memes about it being a rough day.  But Monday start the traditional work week and sets a pace of productivity. Sometimes, after a fun weekend, your energy level can be low to really throw yourself into completion the big project before the deadline. By managing your energy effectively, you can optimize productivity and performance, and achieve more in less time. One of the key benefits of energy management is that it allows you to be more resilient and adaptable to change,
The Fresh Toast – Mondays get a bad rap, so increase your energy with these 4 daily habits
Do Something Creative
Gene Caballero, a personal trainer and small business owner, claims that the best way to wake up with energy is to do something creative that you enjoy, helping you be more productive through the day. Make some time in the morning, right after you wake up, to do something that fuels your creativity and that makes you feel good, which will reverberate through your day.
Have A Big Breakfast
This should come as no surprise since your parents have been telling you for forever that breakfast is the most important meal. It's natural and necessary that your body wants to replenish the nutrients (and water) it lost during a night of sleep. Breakfast also gives you the energy you need to get things done and helps you focus at work or school.
Your meal should be balanced and healthy, giving you energy and stabilizing your blood sugar levels. To prevent a crash in energy later, pack up on carbohydrates.
RELATED: Science Explains How Marijuana Inspires Awe 
Water!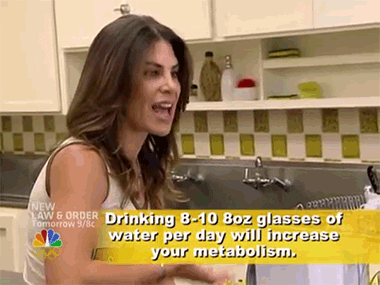 Everyone knows you're supposed to have eight glasses of water a day but a lot of people don't do this. Drinking the right amount of water will leave you feeling energized, hydrated, and in a better mood. You should also moderate your drinking of sugary beverages, sodas and others, which might dehydrate you depending on your blood sugar levels.
Sleep
Related: Rainy Weather Cocktails
It's very important to sleep 7 or 8 hours a night, something that a lot of people struggle with. If you have trouble sleeping then power off devices before bedtime and avoid blue light, which is really rough on your eyes and sleep cycles.