Vaping is the most popular way to consume marijuana among the Gen Z and Millennials. Here is how to get the most for your spend
Call it being frugal or being on a budget in anticipation of the next great travel vacation, but people are looking to stretch a dollar. Vaping is the hot consuming way among Gen Z and Millennials, and flower is losing ground to both vaping and edibles. But are there ways to ensure every drop of THC-liquid is squeezed out of those cartridges before tossing them in the trash. After all, there is nothing wrong with catching one final buzz before bringing in a replacement. Here is how to use every drop from THC vapes.
Related: Pros And Cons Of Pre-Filled Vape Pens
The first step is this process is removing the liquid from the cartridge. To do this, it is necessary to heat up the mechanism without burning up the liquid inside. Any heat source is fine. But it is important to avoid using a direct flame. Doing this only stands to ruin the liquid before it can be repurposed.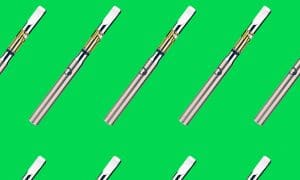 Once the liquid is out of the cartridge, it can be used in a variety of ways. People who enjoy joints that burn slow and hit hard can use the remaining liquid to twax.
Basically, this is a method used to decorate the inside or outside of joint with kief or concentrates. The THC liquid is not a bad way to bind these byproducts to buds. It is especially good if you don't have a dab rig sitting around the house. But then again if you do, dabbing the leftover liquid is always an option for getting the final buzz out of a vape cartridge. Because of the consistency of the liquid, it is not going to hit like shatter, but it will work.
Yet, if the thought of going new school is a bit too scary, there are easier options for using up the last of those cartridges. This stuff can be heated up and poured on top of the buds packed in bowls and bongs, too. Think of it as the hot fudge on your stoner sundae.
Related: Why Gen Z Is Putting Down Beer And Picking Up Marijuana
Of course, the simplest way to repurpose THC liquids is to simply pour them in a beverage. It is a nice way to give your morning coffee or five o'clock cocktail an extra boost. The liquid inside these cartridges, especially in the higher quality versions, already contain active THC. There is no need to heat the product up in order to bring on the stoned effects.
Experiment with these methods to figure out which works best for you.