More details about the upcoming proposal designed to legalize marijuana at the federal level have emerged, and they might be just as ambitious as they are unrealistic for the capitalistic ethos of the United States of America.
Senate Majority Leader Chuck Schumer just released a video on his Twitter page explaining details of his plan to take on cannabis reform in 2021. Set to be filed in a matter of days, Schumer indicated the bill would focus on small business, preventing Big Alcohol and Big Tobacco from hijacking the cannabis scene, "justice, justice, justice" and freedom.
It is long past time to end the federal prohibition on marijuana and undo the damage of the War on Drugs.

WATCH: I talked with @SenBooker and @RonWyden this week about how we're working together on legislation for comprehensive marijuana reform. https://t.co/jfKxJOsIzq

— Chuck Schumer (@SenSchumer) March 18, 2021
Schumer said, "We don't want the big tobacco companies and the big liquor companies to swoop in and take over. The legislation we have will make sure that smaller businesses, businesses in communities of color, get the advantage because communities of color have paid the price for decades. They should at least get something back. "For decades," the Senator continued, "young men who were arrested with a small amount of marijuana in their pockets served long prison terms and then they had a felony record and could never make themselves right."
All of Schumer's ideas sound well and good, but is it really possible to keep the big dogs of American commerce out? This question is going to be tested for sure — this year and in the years to come. Although the US Senate is hellbent on approaching the cannabis reform issue this year, Congressional divides and a skeptical president could make it next to impossible for the Democrats to get anything remotely close to a "comprehensive" cannabis bill approved this year.
According to the Daily Beast, President Biden just forced dozens of White House staffers to resign because they admitted to marijuana use. Even though a spokesperson for the Biden Administration says, "well-qualified applicants with limited marijuana use will not be barred from serving the American people," that still doesn't account for why the White House is firing people for this substance in the first place. The undertones suggest that Biden isn't yet all in on cannabis.
Meanwhile, Big Alcohol and Big Tobacco have already banded together to create a national lobbying group intended to do just what Schumer is trying to avoid – a complete hijacking of the cannabis industry. Therefore, in his limited leadership, Senator Schumer will have to combat the American Way — capitalism — to get his vision of a marijuana law on the books in the coming months.
RELATED: Marijuana Reform Could Lose Out This Year To 'Scorched Earth Senate'
The real focus of the US Senate appears to be in drafting a "restorative justice" bill that includes marijuana legalization. ​Senator Cory Booker said in Schumer's video that the nation cannot have one without the other. "It's not just about creating an environment where states are legalizing, it's about restorative justice, and that's a number of things," Senator Booker asserted. "That's, one, making sure that we expunge records. Don't talk about free adult use of marijuana without talking about expunging records. Number two, the tax money — this is going to be a multibillion-dollar business. Those tax receipts should be reinvested in those in those communities."
Senator Ron Wyden, one of the three key players in the Senate's marijuana legalization campaign, thinks the group has "a real shot now at making progress." However, I can't decide whether this attitude is wishful thinking, delusions of grandeur, or just another political illusion designed to keep Democrats looking progressive and productive.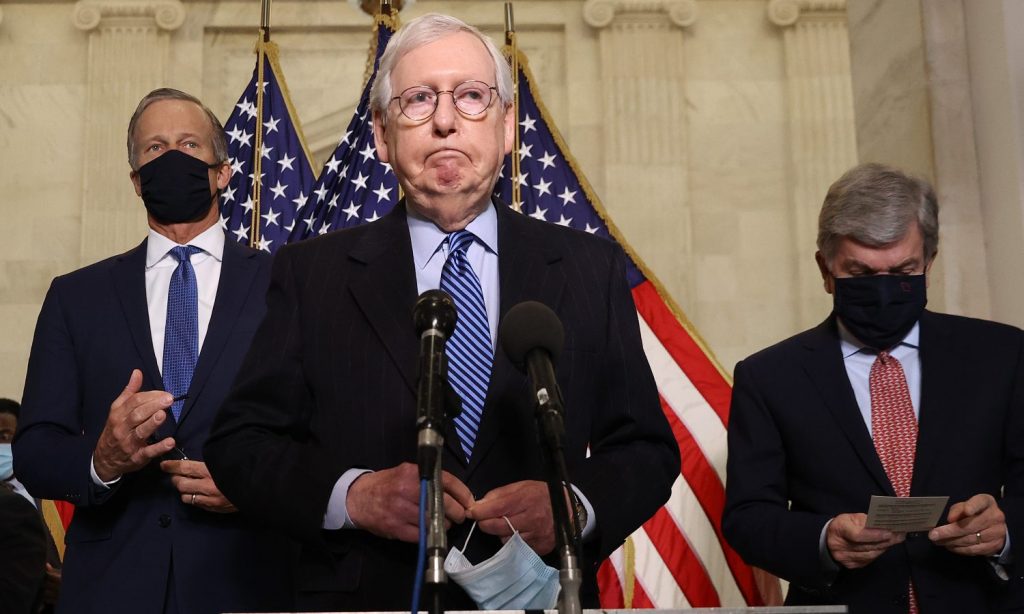 There is a whole lot stacked against the cannabis reform debate this year. Slim majorities in both houses, the controversial fate of the filibuster, Senate Minority Leader Mitch McConnell's threats of a scorched earth Senate, and Biden's apparent anti-cannabis stance could all have a negative impact on this battle. Ending pot prohibition is bigger than Senate Democrats. It's a feat that will need significant reach from both sides of Congress and the White House to gain enough traction to advance. One way or another, divergence and bad blood will likely continue to be the ultimate saboteur.
RELATED: If Senate Democrats' Idea Of Cannabis Reform Is SAFE Banking Act, They Should Give Up Now
Earlier this week, we predicted that, if backed against a wall, Senate Democrats might try to pass a measly banking bill and call it cannabis reform. Wall Street analysts have since come forward to confirm that such a move is precisely what the party plans to do if they can't rally enough support for full legalization. It's "the backup plan if Democrats cannot enact legalization legislation," Cowen's Jaret Seiberg recently told MarketWatch. "Right now there is pressure to pass a cannabis bill," said Seiberg. "Passing the SAFE Act would relieve that pressure, which means legalization would be unlikely to get a Senate vote. It is why the more likely play is to try to pass legalization with the backup plan of switching to the SAFE Act if there are not the votes to legalize."
We shall see soon whether Schumer's plan to legalize marijuana while keeping the cannabis industry in the hands of small businesses has any clout. It seems highly unlikely that will be the case. This is America, after all. Even at the state level, marijuana corporations have played at stakes much higher than their pay grade. They've tried to compete with the big dogs, and now they're officially in the cage.
RELATED: Is It Bad For Big Alcohol And Big Tobacco To Help Shape Marijuana Legalization?
Schumer's concept of a small national cannabis sector and giving back to ravaged drug war communities could be viewed as soft and laughed off the Hill. However it shakes out, the cannabis industry will eventually lock horns with Big Alcohol and Big Tobacco to maintain control. These two mega industrial sectors come with extremely deep pockets and far too much political experience to just walk away from potentially billions of dollars.
No, this is only the beginning.